All About Achilles Tendonitis
12/17/2014 12:20
Overview
Achilles Tendinitis is a painful condition. Running and walking are made possible by the Achilles tendon, which attaches the calf muscle to the heel bone. Strenuous exercise, jumping, and climbing are all movements that can strain the tendon and calf muscles, causing an inflammation known as tendinitis. The injury to the Achilles can be mild, requiring only rest and over-the-counter anti-inflammatory drugs, or severe, necessitating surgical repair of the damaged tendon. Chronic Achilles tendinitis can lead to micro tears in the tissue (tendinosis), which weaken the tendon and put it at risk for severe damage such as a tear or rupture.
Causes
There are hundreds of tendons scattered throughout our body, but it tends to be a small handful of specific tendons that cause problems. These tendons usually have an area of poor blood supply that leads to tissue damage and poor healing response. This area of a tendon that is prone to injury is called a "watershed zone," an area when the blood supply to the tendon is weakest. In these watershed zones, they body has a hard time delivering oxygen and nutrients necessary for tendon healing, that's why we see common tendon problems in the same parts of the body. Tendonitis is most often an overuse injury. Often people begin a new activity or exercise that causes the tendon to become irritated. Tendon problems are most common in the 40-60 year old age range. Tendons are not as elastic and forgiving as in younger individuals, yet bodies are still exerting with the same force. Occasionally, there is an anatomical cause for tendonitis. If the tendon does not have a smooth path to glide along, it will be more likely to become irritated and inflamed. In these unusual situations, surgical treatment may be necessary to realign the tendon.
Symptoms
Common symptoms of Achilles tendinitis include, pain and stiffness along the Achilles tendon in the morning, pain along the tendon or back of the heel that worsens with activity, Severe pain the day after exercising, thickening of the tendon, bone spur (insertional tendinitis) swelling that is present all the time and gets worse throughout the day with activity, If you have experienced a sudden "pop" in the back of your calf or heel, you may have ruptured (torn) your Achilles tendon. See your doctor immediately if you think you may have torn your tendon.
Diagnosis
A podiatrist can usually make the diagnosis by clinical history and physical examination alone. Pain with touching or stretching the tendon is typical. There may also be a visible swelling to the tendon. The patient frequently has difficulty plantarflexing (pushing down the ball of the foot and toes, like one would press on a gas pedal), particularly against resistance. In most cases X-rays don't show much, as they tend to show bone more than soft tissues. But X-rays may show associated degeneration of the heel bone that is common with Achilles Tendon problems. For example, heel spurs, calcification within the tendon, avulsion fractures, periostitis (a bruising of the outer covering of the bone) may all be seen on X-ray. In cases where we are uncertain as to the extent of the damage to the tendon, though, an MRI scan may be necessary, which images the soft tissues better than X-rays. When the tendon is simply inflamed and not severely damaged, the problem may or may not be visible on MRI. It depends upon the severity of the condition.
Nonsurgical Treatment
NSAIDS like ibuprofen are often prescribed to help manage the pain and inflammation. Steroids are often recommended when patients do not respond to NSAID treatment. They are often most effective when injected directly into the inflamed and swollen area. Physiotherapy is a great way to stretch and strengthen the Achilles tendon. A good physical therapist will also teach the patient techniques which give better foot support during exercise (taping, wrapping, etc?). Orthotics, assistive devices and insoles can be used to cushion and cradle the arch of the foot during the healing process. Shock Wave Therapy. This is the newest form of treatment and uses concentrated sound waves to stimulate healing in the affected area. This form of treatment is reserved for heel pain that is unresponsive to other forms of treatment.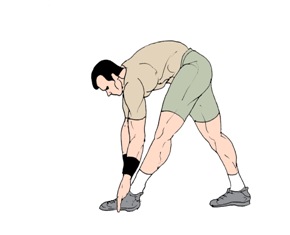 Surgical Treatment
Your doctor may recommend surgery if, after around six months, other treatments haven?t worked and your symptoms are having an impact on your day-to-day life. Surgery involves removing damaged areas of your tendon and repairing them.
Prevention
Suggestions to reduce your risk of Achilles tendonitis include, icorporate stretching into your warm-up and cool-down routines. Maintaining an adequate level of fitness for your sport. Avoid dramatic increases in sports training. If you experience pain in your Achilles tendon, rest the area. Trying to ?work through? the pain will only make your injury worse. Wear good quality supportive shoes appropriate to your sport. If there is foot deformity or flattening, obtain orthoses. Avoid wearing high heels on a regular basis. Maintaining your foot in a ?tiptoe? position shortens your calf muscles and reduces the flexibility of your Achilles tendon. An inflexible Achilles tendon is more susceptible to injury. Maintain a normal healthy weight.